Launching a career as a life coach is a path filled with hours of study, training, and mentorship, all facilitated via either in-person classroom sessions or online learning programs. Many of these are part of strenuous 4-year degree programs at universities or accredited coach learning centers, often costing tens of thousands of dollars to complete.
As if the recent rising tide of inflation weren't bad enough, the unfortunate truth as we enter 2024 is that life coach training isn't cheap.
The good news: getting a life coach certification doesn't have to cost an arm and a leg. Many programs are very affordable, allowing you to save money while gaining the knowledge and experience needed to build a coaching business from the ground up. Best of all, some of these programs have achieved ICF accreditation (just like the most expensive programs), so you won't be sacrificing quality for savings.
Deciding which affordable training program is right for you depends on a slew of factors, since no two programs are exactly alike. You'll need to look at the certifications offered, the training included in each program, and the duration of the overall program itself. One thing you won't have to worry about: cost. Finally.
The three programs we'll cover in this article are incredibly popular and well-rounded, and they also are among the cheapest life coach certification programs available anywhere in the world.
Let's dive in and explore their programs in more detail.
Overall Pick: Coach Training Alliance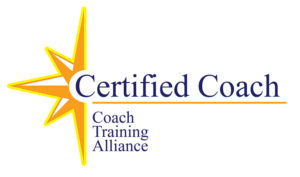 The Certified Coach Program at Coach Training Alliance is a comprehensive training program filled with more than 60 hours of Approved Coach Specific Training Hours (ACSTH), which are required by the International Coach Federation (ICF) in order to qualify for certification after completing the program.
The incredibly low tuition cost of $3,897 is among the least expensive among programs accredited by the ICF. Conveniently, it includes all of the learning materials needed to complete the program (no hidden fees or book costs). You can either choose to pay everything up-front, or you can split the tuition cost into very manageable payments of 3, 7, or 9 installments with very reasonable financing. These payment increments are billed consecutively every 30 days after you enroll in the program.
In this program, learning takes place through in-depth live teleconference seminars, virtual classroom sessions, and audio recordings. More than 340 pages of supporting documents and access to educational software is included. Class size is limited to 12 students at a time, which creates an excellent peer-to-peer learning atmosphere that is complemented with mentorship small groups, direct access to teachers, and meaningful student involvement in each lesson.
Because everything is self-paced, you can work through the training hours and supporting material at a speed that works for your individual learning style and schedule. Weekly tele-sessions last for approximately 60-90 minutes, and the related coursework typically takes up 1-2 hours per week depending on your reading speed.
While most students complete everything within approximately 6 months, you are certainly able to take longer to go through the material if needed. You can develop your coaching skills while working a full or part-time job, or while growing your life coaching practice, earning while you learn to help pay for the program while you are in it.
More than anything, this is the primary benefit of a remote training program — it allows students with other responsibilities to learn at their own pace and schedule their life around the education, instead of having to re-arrange everything going on in their lives just to make room for their training. This flexibility goes a long way toward reducing stress, which in turn will allow for a more fulfilling experience, and hopefully, deeper learning.
More than 10,000 people have graduated from Coach Training Alliance in the last several years. The personal development and professional coaching training provided gives students a unique ability to work with clients in varying ways. The ability to help clients with more than just one aspect of their life is a huge benefit that comes from completing this training program.
In addition to traditional life coach training and skill development, students are also instructed in critical concepts like marketing and business management techniques so that they can leave the program with the ability to build a successful business and market their services effectively.
This unique emphasis on real-world business training and their excellent price point is the reason we recommend CTA for most aspiring coaches.
If you'd like to learn more, here is where you can find their free introductory workshops meant for anyone looking to familiarize themselves with the program and ask any questions they may have.
Program Breakdown
Overall Program Cost: $3,897
Completely Online
60+ Hours Of ICF-Approved Training
Average Time to Completion: 6 Months
Runner Up: iNLP Center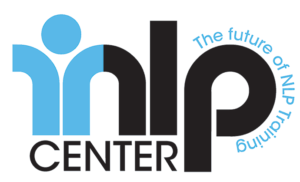 The iNLP Center is an ICF-accredited Neuro-Linguistic Programming training program that offers a broad range of programs all centered around coaching and Neuro-Linguistic Programming. Most programs are short, and serve to support the two primary learning programs offered: the standard training program and the advanced training program.
Enrollment in these programs starts at just $799, with your final cost depending on whether or not you decide to add on any other niche training programs. The tuition fee can be paid in full or can be easily broken up into a 4 month payment schedule. Not only that, the iNLP Center offers a full 7-day money-back guarantee with all program enrollments, so you can confidently try out any learning path that interests you risk-free.
If your goal is to earn your Associate Certified Coach title from the ICF, your total cost will be $3400 plus any applicable financing charges. The $799 course is for their Neuro Linguistic Programming course, which is ICF-accredited for 25 CCE credits.
All of the iNLP Center's programs can be accessed through an online student portal 24/7. This allows students to customize the majority of the program pace to their own unique schedule and needs. The standard program has more than 160 hours of material, and the advanced course covers approximately 200 hours' worth of material.
Depending on your reading speed and learning style, you should be able to complete your program path in as little as 6 months. Those that prefer to take on a more leisurely learning schedule are certainly welcome to do so as well.
In addition to the self-paced material included in these programs, there are also weekly live training events, which are available at varying times so that you can choose sessions that conveniently fit within your existing life and work schedule.
The iNLP Center also provides weekly coaching workshops that serve to link students with peers, mentors, and teachers. This unique one-to-one learning environment is an incredible feature of the iNLP Center; it is something thousands of students find to be a key to their success in going through a life coach program and obtaining certification once it is complete. From the Practice Partner program to the Coaching Buddies groups, you will be able to find something that meets your unique needs while also bringing personal, human contact to the online learning experience.
Since the programs available at the iNLP Center are completely accredited by the International NLP Association, CAMFT (California Association for Marriage and Family Therapists), the International Coach Federation (ICF), and the International Association of Professional Life Coaches (IAPLC), you can have complete peace of mind that the training you receive is up to date and includes everything you need to build a business and find success as a life coach.
Another unique offering that comes with iNLP Center's advanced training program is ICF coach mentor sessions. 10 one-on-one sessions are included, which is an exceptional value to new coaches that want to make the most out of their learning and become as prepared as possible for the certification exam and for the future work they will do with clients.
Supporting areas of study also offered by iNLP Center include hypnosis practitioner training, mindfulness practitioner training, marketing, personal development, and several Neuro-Linguistic Programming areas of study. The Neuro-Linguistic Programming tools and trainings offer students the ability to help their clients re-program their brains and move into high-level living, including overcoming phobias and moving beyond "stuck states." Students are able to enroll in as many of these supplemental courses and programs as they like, for an added tuition rate.
As always, once a life coach training program has been completed, students will need to take and pass the ICF credentialing exam in order to become ICF-certified.
To get the special price of $799, you'll need to avail of their New Student Special, which can be found here.
Program Breakdown
Overall Program Cost: $799+
Completely Online
160 – 200 Hours Of ICF-Approved Training
Average Time to Completion: 6 Months
Budget Pick: Universal Coach Institute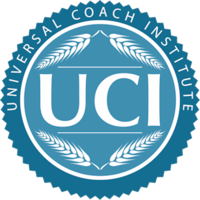 The Universal Coach Institute offers a blend of guided and independent coach certification programs. (There is a live, in-person training option that is occasionally available, as well.)
UCI offers two primary areas of study: life coach training and codependency coach training. Both of these learning paths offer up to 18 ICF-approved study hours, and sessions can be taken consecutively to obtain enough approved hours to apply for initial ICF certification, or to count toward continuing education hours.
These affordable programs cost start at just $297, and can be paid in full upon enrollment or split into 2 installments. Payments are non-refundable.
Each program runs for approximately 12 weeks, and is conducted via an online student portal as well as via weekly live training sessions that are available at a set time every Monday. Students receive lifetime access to all of their coach training recordings, and when they complete the program they may also opt to receive 1 year of continued access to the student center online.
Phone consultations with a mentor coach are a huge part of the institute's success. Having direct access to someone that can answer your questions and help you work through struggles is an incredible asset when it comes to mastering the content and passing the certification exam.
On average, students are required to complete 3-4 hours' worth of work each week – this depends largely on how quickly you read and are able to complete the material. If something unexpected comes up and you fall behind, you will still have access to all of the training material, and will be able to complete the course at your own pace.
As is the case with all programs, once you successfully complete the training program you will still need to take and pass the ICF credentialing exam in order to become officially certified.
In addition to the primary coaching skills training, students are also taught life skills and mentorship best practices, as well as business and marketing training. This is a valuable resource, geared toward boosting student preparedness for building a successful business that can last. The Universal Coach Institute also offers inclusion to an online coach community where you can work with a coaching buddy and access a library filled with supporting materials like sample materials, exercises, articles, and so much more. The programs also count toward CCE (Continuing Coach Education) hours as designated by the International Coach Federation.
Program Breakdown
Overall Program Cost: $297+
Completely Online
Up to 18 Hours Of ICF-Approved Training
Average Time to Completion: 3 Months
A Note on ICF Accreditation
You'll notice that we've emphasized ICF accreditation throughout this article, and it's for good reason. The International Coach Federation has done an excellent job at setting the standard for what coaching should aspire to be, and without that universal standard, coaching would remain in that murky, anything-goes territory that it used to be known for.
We could easily have recommended programs that cost you $19.95 and claim to "certify" you as a life coach, but that would not only be dishonest, it would do you (and your clients) a disservice as these courses are nothing more than DIY training modules. A course for $19.95 can't provide life coach certification any more than a YouTube video can.
Whether a program is $10,000 or $300, as long as you choose a program that is approved by the ICF, you can be sure you'll be receiving a quality education. Your clients will appreciate it.
Conclusion
If you've been overwhelmed by the price tags associated with some of the high-end coach training programs, hopefully this overview has made it clear that quality life coach training doesn't have to be cost-prohibitive. In fact, it can be quite affordable, especially if you choose a remote program.
The COVID-19 pandemic ushered this new remote learning era in, and even as the pandemic recedes into memory, the benefits of a fully remote experience are too numerous to ignore.
The three life coach certification programs listed above are all ICF-accredited programs that offer ICF-approved training hours. This means that once you complete the training, you are eligible to apply for certification just as you would as part of a more expensive training program plan. These virtual programs provide you with online learning opportunities that you can customize to work with your existing schedule, making them incredibly convenient as well as affordable options.