Learning in the post-COVID digital world can come in many forms, including audiobooks, podcast, webinars, educational software, live or pre-recorded training events held over Zoom, and yes — traditional classroom settings, as well. Still, even in 2023, the age-old practice of simply reading a book hasn't yet gone out of fashion.
Whether you want to learn how to be a better communicator, find a step-by-step plan to help you become a life coach, or find a simple action plan to help you build a business, there is undoubtedly a book out there that is perfect for what you need, written by someone who was once in your shoes and made all the mistakes so you don't have to.
The following titles are widely considered to be three of the best life coaching books on the market at the moment. They are all written by veterans in the field and have the power to transform your thinking about coaching. Hopefully, they will help you build coaching skills that you can use to create a successful coaching business and help countless clients live more fulfilling lives.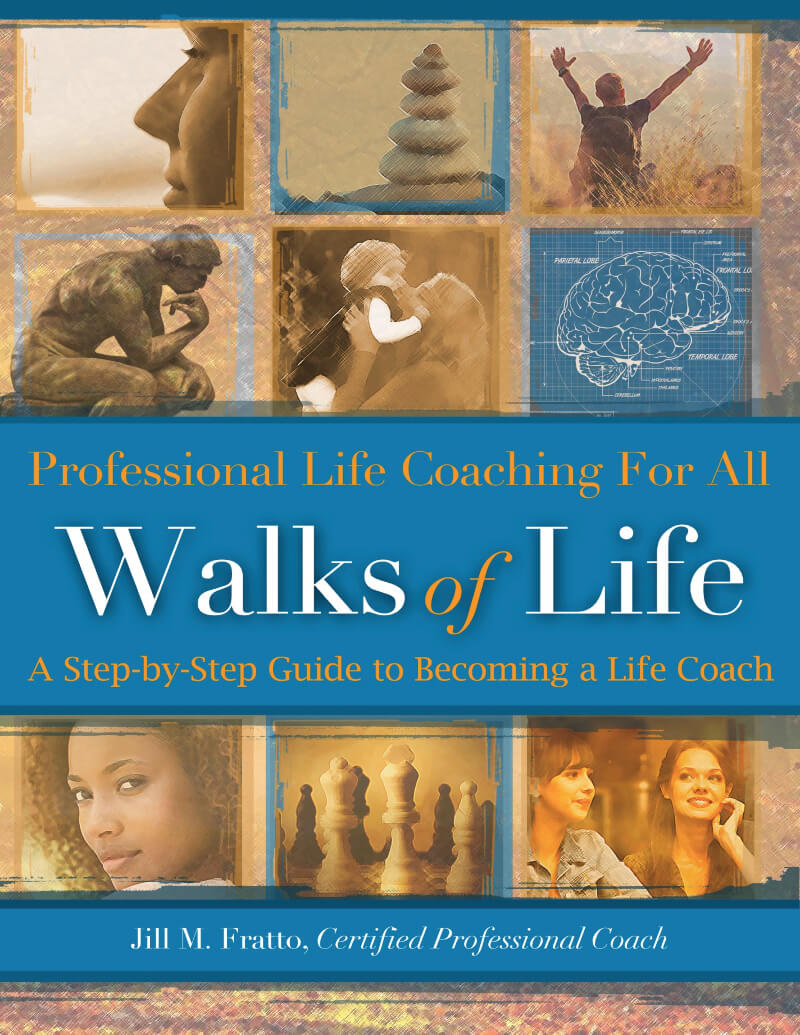 Walks Of Life
Jill Fratto, Certified Professional Coach
Probably the most popular and influential book on life coaching written to date, Walks of Life has helped guide tens of thousands of aspiring coaches through the beginning stages of their careers.
The book is written by Jill M. Fratto, an iPEC Certified Professional Coach (CPC) who has over 15 years of coaching experience. In writing this comprehensive guide, Jill draws upon her extensive coaching experience and offers actual client conversations and real-world situations throughout the pages of the book.
As a bonus, she includes a Coach's Corner Debrief after every sample client conversation to help explain the conversational choices the coach made and the purpose behind them. This makes for a realistic, relatable, and actionable learning experience – one that anyone can absorb and put to use in their own coaching practice.
Helpful to those just starting out in this field, the book guides readers through every step of the certification process. By showing exactly what is needed in order to pass the ICF exam, Jill has taken the mystery, stress, and confusion out of the process. The book also reviews major coaching programs and help readers select a learning path that is the right fit for their unique needs.
As if all of that were not enough, Jill's comprehensive guide also shows exactly how to set up a successful coaching business and helps new coaches decide what business format is right for them. From forming an LLC to deciding how much to charge per hour or how to best advertise, Walks of Life offers a wealth of real-world knowledge and practical tips that you can put to use immediately.
So much of being a coach revolves around working with clients and helping them live their best lives, but it is the unspoken skills that surround the actual work of building a business from the ground up that are often the most difficult to master. If you have been wondering how to manage your time effectively, stay on task, develop financial prowess, and ultimately build a thriving coaching business, this book has you covered.
The book is sold on the National Coach Academy website. Click here to read a free sample.
Summary:
The #1 best-selling coaching book on the market
More than 50 pages of real-life coaching dialogue examples
A complete certification guide
A robust section dedicated to building your business through marketing and advertising
Financial advice geared toward entrepreneurs and small business owners
Sample forms and contracts for you to use in your coaching practice
A detailed section to help you select the coach training program that best fits your unique needs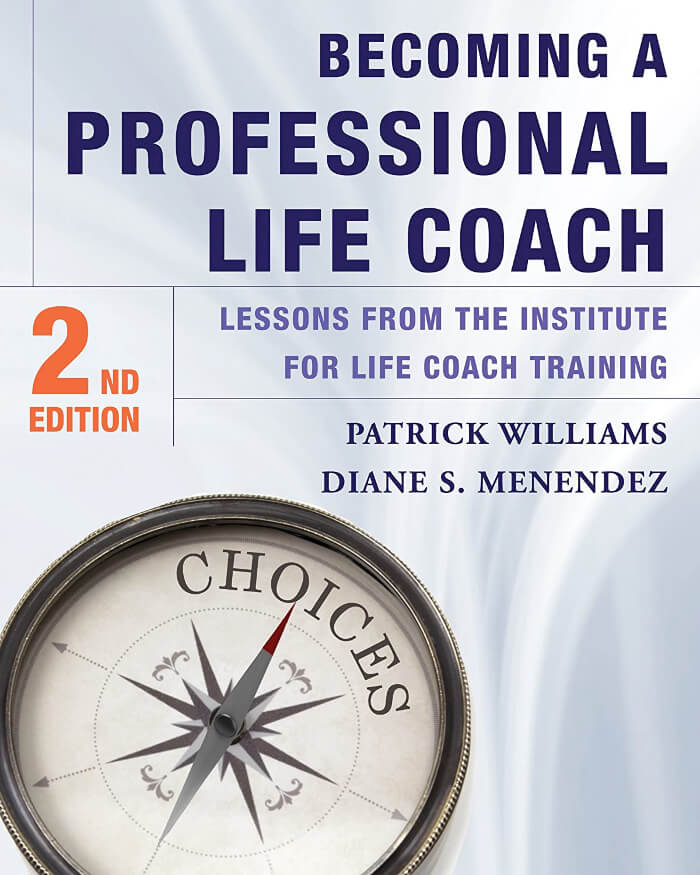 Becoming a Professional Life Coach
Diane S. Menendez Ph.D. and Patrick Williams Ed.D.
Diane S. Menendez and Patrick Williams teamed up to bring the coaching community this incredible resource, and it is well worth the read. Patrick is the founder of the Institute for Life Coach Training and has been heralded as the "ambassador of life coaching." Diane was formerly a faculty member at the Institute as well. Patrick has been a certified psychologist for over 40 years, and both authors are master certified coaches with a wealth of experience that provide rich context to this book.
Becoming a Professional Life Coach is a comprehensive guide to navigating every possible area of becoming a life coach. Beginning with a short look at the history of the foundations of coaching, readers are given a solid understanding of the basic principles of the profession and are then taken through an examination of where the coaching industry may be headed in the future.
Understanding the background surrounding coaching helps give context for the strategies and processes that have become the backbone of the client-coach relationship over the years. Becoming a Professional Life Coach takes readers (or listeners, for those that opt to purchase the audiobook) through a well-guided look at the overall coaching process, helping them become competent, successful professionals.
The book moves briskly through basic coaching fundamentals such as listening skills, effective language, session preparation, and more. It then covers more advanced topics and ideas like helping clients identify their unique life purpose, working with them to recognize and overcome obstacles, helping them align their values with their actions, and so much more. With all of this information contained in its pages, beginner coaches and advanced coaches alike are sure to find something valuable to take away and to implement in their coaching business.
This new and completely updated edition brings back timeless training and techniques that have been supplemented with all-new information on coaching competencies, business ethics, somatic coaching, wellness coaching, and more. The book even digs into the myriad ways positive psychology and neuroscience are impacting the coaching industry profession. The connections between coaching and neuro-linguistic programming are mind-blowing, which is one of the reasons this new, updated version of Becoming a Professional Life Coach is such a powerful training and education tool for coaches at all levels.
A 3rd edition of this popular text is due for release on April 4, 2023.
Summary:
480 pages of real-life coaching tips, history, and session examples
More than 13 hours of clear, crisp, engaging audio (in the audiobook version only)
Detailed information on the history and future of the coaching industry
Popular neuroscience coaching applications
Step-by-step information that walks readers through the entire coaching training process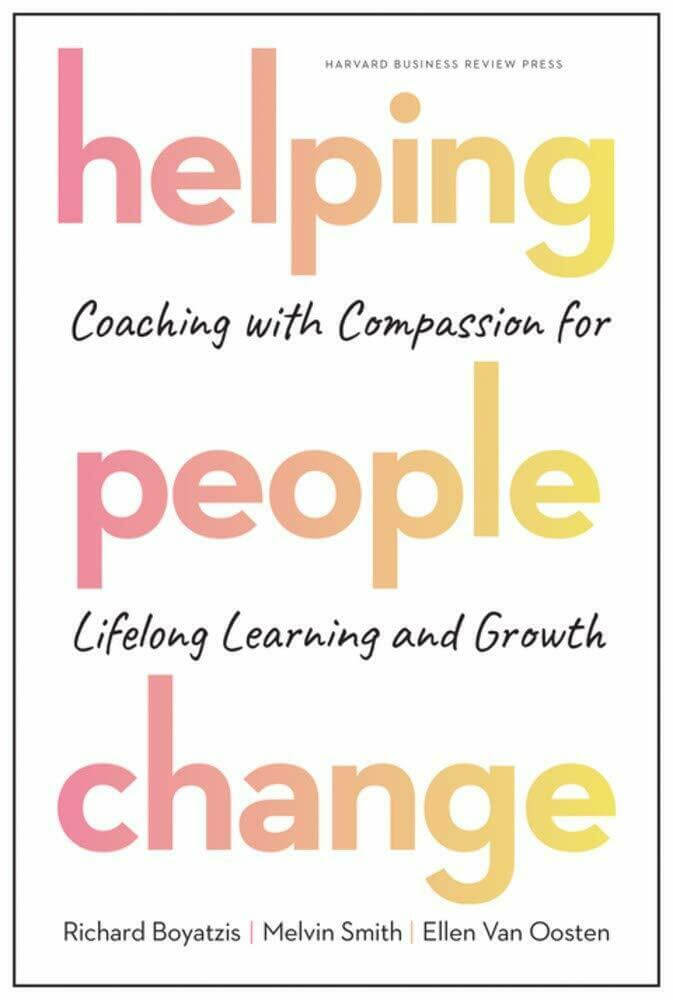 Helping People Change
Richard Boyatzis, Melvin Smith, and Ellen Van Oosten
Last but not least, Helping People Change deserves a place on our list. In this powerful and easily applicable book, authors Richard Boyatzis, Melvin Smith, and Ellen Van Oosten highlight a clear message that has helped thousands of life coaches — both beginners and advanced practitioners — find hope and success.
Richard Boyatzis is a university professor at Case Western Reserve University, as well as an adjunct professor at the international ESADE Business School. Melvin Smith is a professor and the Faculty Director of Executive Education at the Weatherhead School of Management at Case Western Reserve University. Likewise, Ellen Van Oosten is an associate professor at Weatherhead and serves as the Director of the Coaching Research Lab, which she founded along with he co-authors in 2014.
Together these individuals hold vast experience in the areas of life coaching and human behavior study. As they put it, "The way to help someone learn and change cannot be focused primarily on fixing problems, but instead must connect to that person's positive vision of themselves or an inspiring dream or goal they've long held." They posit that a successful coach-client relationship must hinge on emotional intelligence and also must connect the person's goals with a positive, tangible action plan.
The authors draw on their wealth of coaching experience, filling the book with compelling real-life stories. The decades of combined research they share proves definitively that their model of coaching paired with positive client reinforcement — "coaching with compassion," as they call it — opens people up to creative problem solving while helping them work through obstacles and struggles quickly. Not only that, but their methods have also been shown to have long-term effects, versus techniques that offer "quick-fix" treatments and ways of thinking.
While helping others and wanting to "fix" their problems is not a bad thing, it is a line of thinking that fails to address the root issues that cause people to struggle in the first place. Even though coaches often mean well and have good intentions, simply correcting problems does nothing but put a shiny coat of paint on top of a potentially bigger issue. The goal of this book is to equip coaches to work with their clients to dig as deeply as possible into their lives — both the good and the bad — to unearth the foundational blocks that are holding them back from greatness.
As the book says, "This is what great coaches do. They know that people draw energy from their visions and dreams, and that same energy sustains their efforts to change, even through difficult times. In contrast, problem-centered approaches trigger physiological responses that make a person defensive and less open to new ideas."
Helping People Change is a book filled with hard questions and focused exercises that encourage self-reflection, forward motion, and lasting results. Those that digest the information and apply it to their coaching practice will see dramatic changes in the success of the work they do with their clients.
Summary:
256 pages of hard-hitting scientific research combined with usable techniques anyone can master
More than 7 hours of clear, compelling audio (in the audiobook version only)
Detailed discussion of Positive Emotional Attractors and Negative Emotional Attractors
Real-life examples laid out in a learning-based format
Conclusion
Becoming a life coach is both rewarding and demanding. There are so many different and nuanced techniques that must be mastered in order to pass the certification exam, let alone successfully come alongside clients to help them level up their lives, that it can be difficult to even know where to begin.
The books listed above are three of the best life coaching books available. They have helped thousands of people walk step by step through the life coach training and certification process, and they contain valuable information about how to run a business, how to market your services, and how to provide clients with effective training exercise that cultivate lasting change. Taking the time to read one, two, or all three books will be time well-spent, helping you hone your coaching skills so you are equipped to work with clients in a significant, meaningful way.